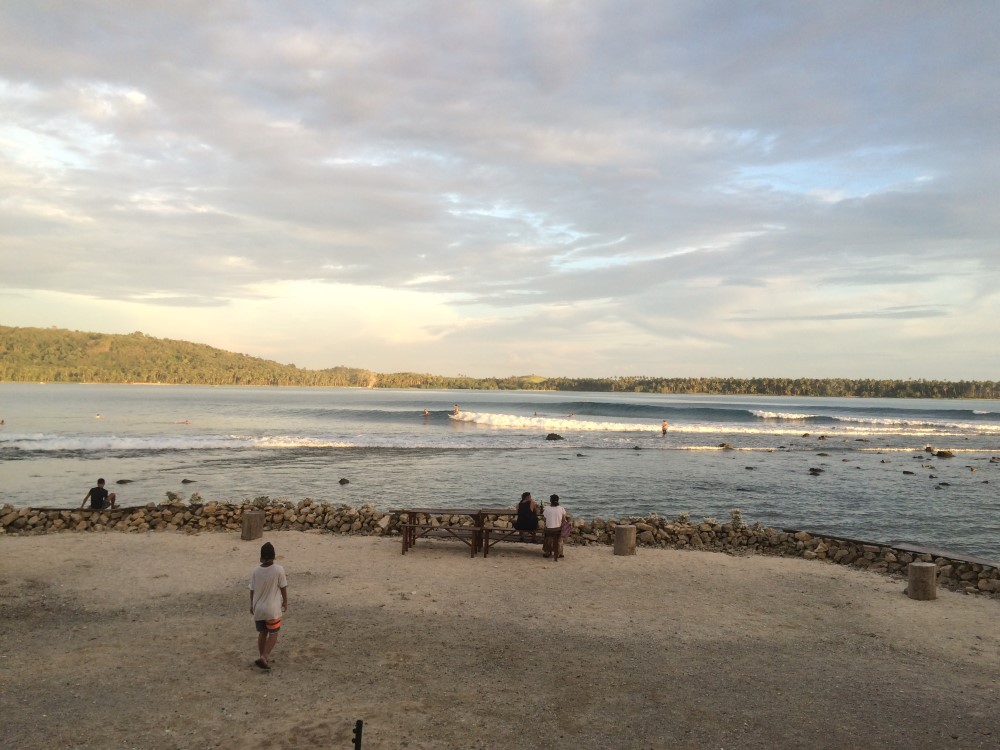 "Besides the name Kiddies Corner, I have personally nicknamed this section of the wave as the 'Exercise Machine' as it keeps me fit, is super fun and my daily exercise!"
Mark Flint, KabuNohi Sorake Founder
Kiddies Corner is a small wave that runs perfectly down the line hugging the reef, and if it is linked, it can serve up long rippable walls of fun with rides over 100 meters long. For the short board rippers, this little wave machine is one of the most rippable and airable waves anywhere. For older mellow surfers who travel with a funboard, they will have hours of fun trying to link the sections together. A paradise for the older guys and groms!
With an access/exit as easy as a very short walk up or down our private beach track at KabuNohi Sorake, Kiddies Corner is a perfect funboard wave. In addition, Mark will have a small quiver of longboards for rent for anyone wishing to try.
A small A-frame at the end of Kiddies Corner. It is short, shallow and tubing. When this starts breaking the up and coming, local mini grommets are on! Rice Bowl is a good indicator that there is movement in the swell. It breaks directly out the front of KabuNohi Sorake and provides great late afternoon entertainment from the surf deck whilst enjoying a cold Bintang.
#3 main break: THE POINT (keyhole)
This iconic wave is our home break. It is nicknamed 'The Keyhole Section' as when it's working, you paddle out to a Keyhole in the reef at the back of the wave. From the Keyhole, it is a 50-meter paddle to the take off. This wave breaks 4-15 ft waves consistently with predictable sections. The water depth is even and the reef is relatively flat. Current is nil most of the time, and tidal variance is very slight apart from full moon.
The Point is fast and powerful and offers a perfectly formed high tubing wave. Our KabuNohi local guides will give you a personalised introduction to the Point and take you out through the Keyhole and will give you the vital landmark pointers (for example, a coconut tree, etc.) so you know if you are sitting too deep or not out far enough to avoid the clean up sets. Our guides will give you some vital pointers on the wave itself and the best way to approach it.
Local surfers in general are very friendly if you have a chat with them, and do not be greedy and wait for your turn. They will call you into set waves if you are cool in the water.
Your turn arrives and you're at a prime spot for a set wave! Put in that extra stroke and enter with speed and you will be set for the ride of your life. Often you should take the high line rather than do a deep bottom turn. This high line could set you up for an exciting barrel or you might be racing to get through to the next section where you have got some time to drop down and draw out a nice bottom turn and smack the lip before launching into the end section which will often throw out a nice almond barrel that spits you out into the channel.
On smaller days, it may not barrel as much, however, it becomes a very rippable high performance wave and you may even be able to milk it and fade back to connect with Kiddies Corner and take another 100m of skate park through to the Rice Bowl... Now that's a big paddle back to The Point, but it is well worth it.
Unlike other Indo breaks, The Point breaks in deep water and it would be very rare to touch the bottom even if launched over the falls. If you are caught in the impact zone, you can change direction rather than try and paddle through it and head for the deep water of the channel and back out to The Point, being careful not to cut it too fine and cop a wide set on the head.
Once again, The Point is so easy to enter the surf zone via the Keyhole and exit the surf by a prone out on a wave and heading high up the reef to head in the direction of KabuNohi private walkway back into the resort. There is a fresh water shower at the top of the steps. You are likely to get the barrel of your life here, and more than likely have a photo to prove it as we have local photographers lined up to shoot your sessions and offer you a photo package at a very reasonable price!
The picture-perfect wave peels down the outside point letting you know that the sets are focused on The Point! Paddle and take a right turn out of the main break, Keyhole before and watch this mesmerizing wave peel down the shallow reef. It is advised to best watch the locals here because if they are paddling out it is a good sign that the swell angle is good. Indicators breaks perfectly on a shallow reef edge (We have local guides that can advise and surf with you here).
#5 SOBATU: DEEP JUNGLE RIGHT
A walk up around The Point. This challenging wave is for experienced surfers only. Usually, a mission here is well-planned and documented. We have a speed boat available for strike/photography missions to Nias' heaviest and most challenging wave, also the venue of O'Neil Deep Jungle Open WQS Event in 2000.
With easy paddle through the bay, Rockstars Right is a mechanical righthander allowing a few barrels and guaranteeing you with lots of stokes and froths.
With the right direction in the swell and favourable winds, our guides can arrange a car and take you to Rockstars Right for a surf session (a 45-minute car ride from the resort).
#7 LAGUNDRI BEACH RIVER MOUTH
Learning to surf is easy and cheap in Nias. The Lagundri Beach Rriver Mouth has a perfect small wave where you can quickly learn the basics of surfing in safety. Soft top surfboards, boards designed specifically for beginner, are available for rent.
The Lagundri Beach River Mouth can also offer a cracking righthand beachbreak if our Main Break is pumping. This keeps intermediate surfers happy when the The Point is firing and too big.
OTHER SURF SPOTS...
There are numbers of other surf spots within our vicinity:
Secret Beach (1/2 day car/motorbike river crossing beach walk)
West Coast Surf Hunt (car trip min 1 day)
West Coast Afulu and Secrets (car trip extended overnight in local accommodation)
East Coast Surf Hunt (car or motor bike ½- 1 day)
Hinako Islands - Dive, Fish & Surf (day trips by speed boat or overnight extended trips as required and weather permitting)